The pickings are rather slim with just 61 of the 276 ETFs in the TrendInvestorPro Master List in uptrends. Unsurprisingly, most of the ETFs in uptrends are related to commodities (energy, metals, agriculture). Outside of commodities, we are seeing uptrends in ETFs related to consumer staples, utilities, aerospace-defense, agribusiness, infrastructure, steel and banks.
The Silver ETF (SLV) is one of the commodity ETFs in an uptrend and its uptrend signal is rather recent (as of February 24th). In addition, the chart sports a large Double Bottom and the ETF is challenging resistance. The green zone shows two lows in the 20 area and the red zone marks resistance from the November high. A breakout, which is happening right now, would confirm the pattern and target a move to new highs.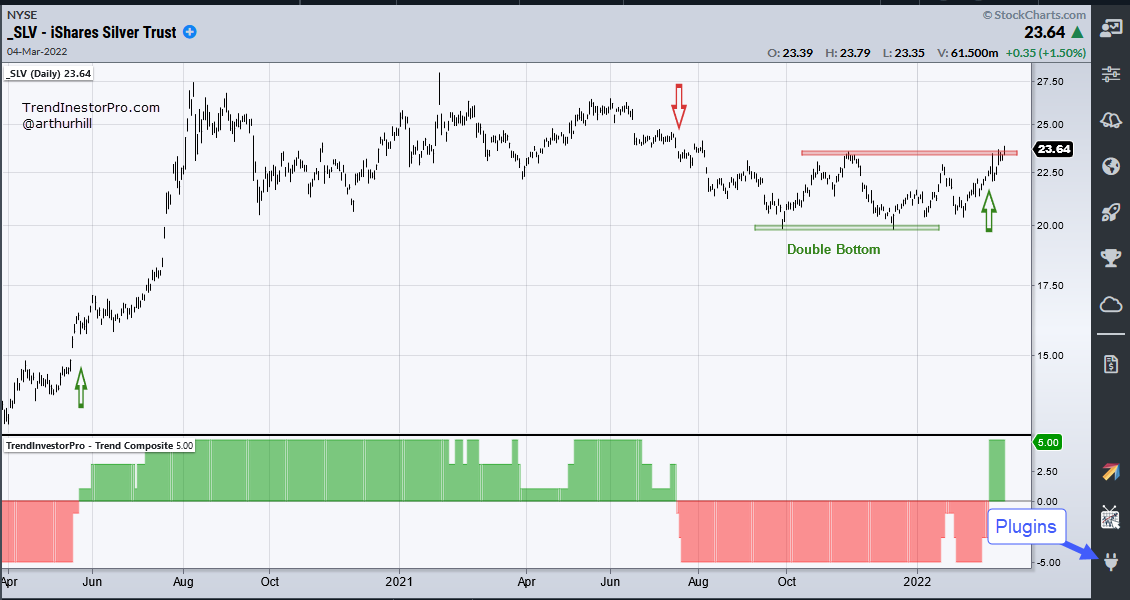 The bottom window shows the Trend Composite with three signals in the last two years (red/green arrows). Trend signals will never catch the exact bottom or top, but they can profit from the middle when a trend takes hold. The Trend Composite is now at +5, which means all five indicators are on bullish signals. You can learn about the Trend Composite here. 
This week's video (here) covered broad market conditions, the technical picture for SPY, QQQ and IJR, as well as some big breakouts in ETFs related to steel, aerospace-defense and agriculture.
TrendInvestorPro focuses on ETFs with uptrends and leading charts. Once the trend is in place, we monitor the charts for pullbacks and entry opportunities.   Click here to learn more and gain immediate access.
The Trend Composite is one of 11 indicators in the TrendInvestorPro Indicator Edge Plugin for StockCharts ACP. Other indicators include the Momentum Composite and ATR Trailing Stop. Click here to learn more.