As its name suggests, the Sports Betting iGaming ETF (BETZ) is designed to capture the rise in online gambling. Online gambling has been around for a while, especially in Europe, but it is relatively new in the US because more state legislatures are making it legal. I am not here to argue the fundamentals of the industry. However, this appears to be an industry with some secular growth prospects in the US. Even so, the prices of associated stocks and ETFs sometimes think otherwise and this is why I focus on the charts.  
The first chart shows one year performance for BETZ and the 11 stocks that are traded in the US. You can find a complete list from the fund provider (here). 
BETZ, DKNG, PENN, RSI, CHDN, GAN, CZR, GENI, SGMS, BYD, IGT, SKLZ
BETZ is up 64% since August 2020 and ten of the eleven stocks are up. SGMS is by far the leader with a 200+ percent gain. Keep in mind that this is one volatile stock and risk is above average. SGMS also reports on Monday.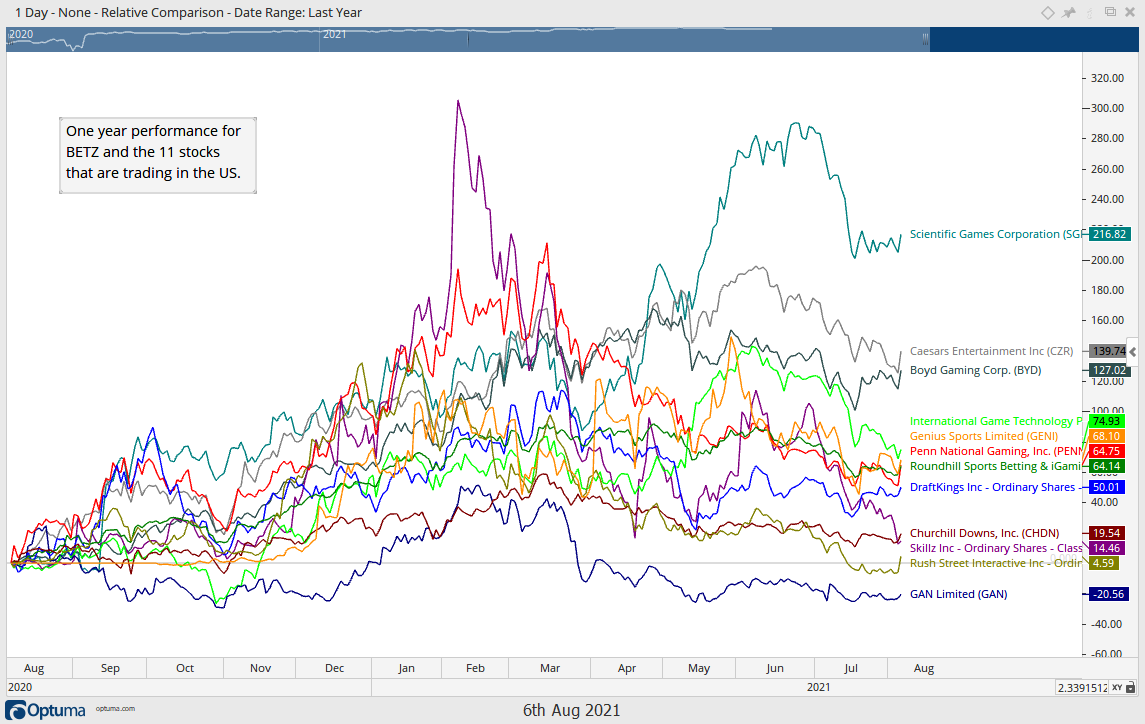 BETZ peaked in mid March 2021 and fell below its 200-day SMA in mid July. The next chart shows performance for BETZ and these same stocks since mid March (100 days). Only one is up during this timeframe: SGMS. DraftKings (DKNG) and Penn National (PENN) were hit quite hard with declines of 25 and 47 percent, respectively. DKNG (4.47%) and PENN (4.30%) are top holdings in BETZ.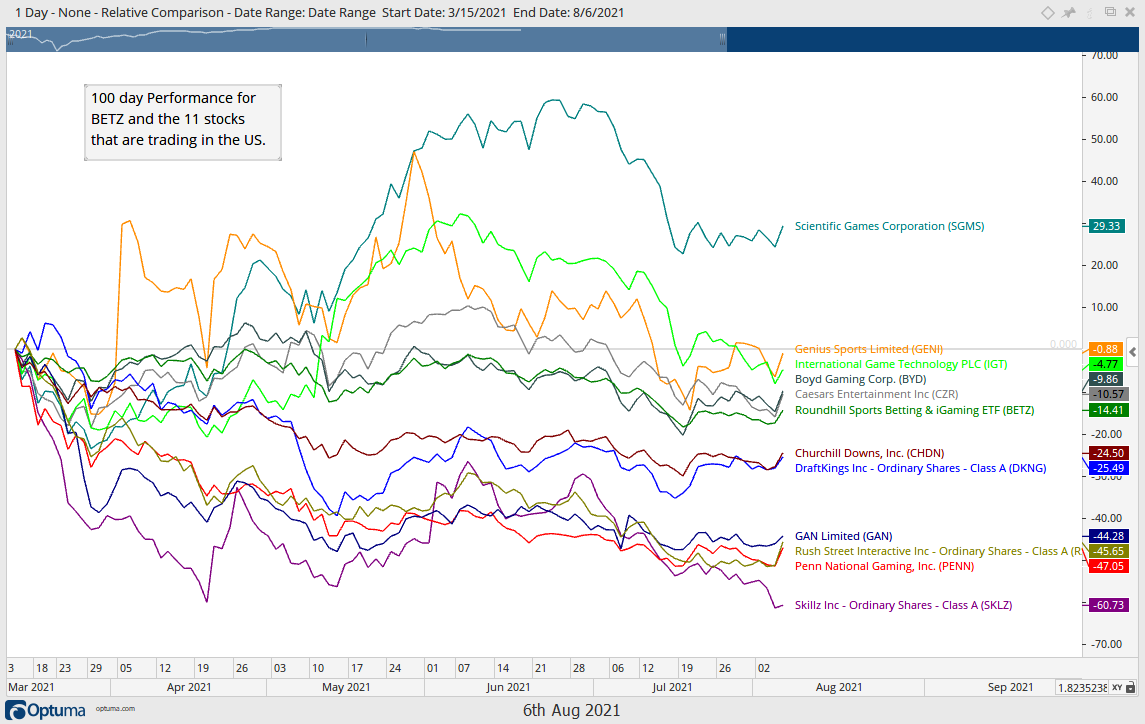 The next image shows CandleGlance charts with the 50-day and 200-day SMAs. BETZ and six stocks are below their 200-day SMAs. SGMS is by far the strongest of the group because it is well above its 200-day. CZR, BYD and IGT are testing their rising 200-day SMAs (green shading), while BETZ and DKNG are just below the 200-day SMAs (blue shading).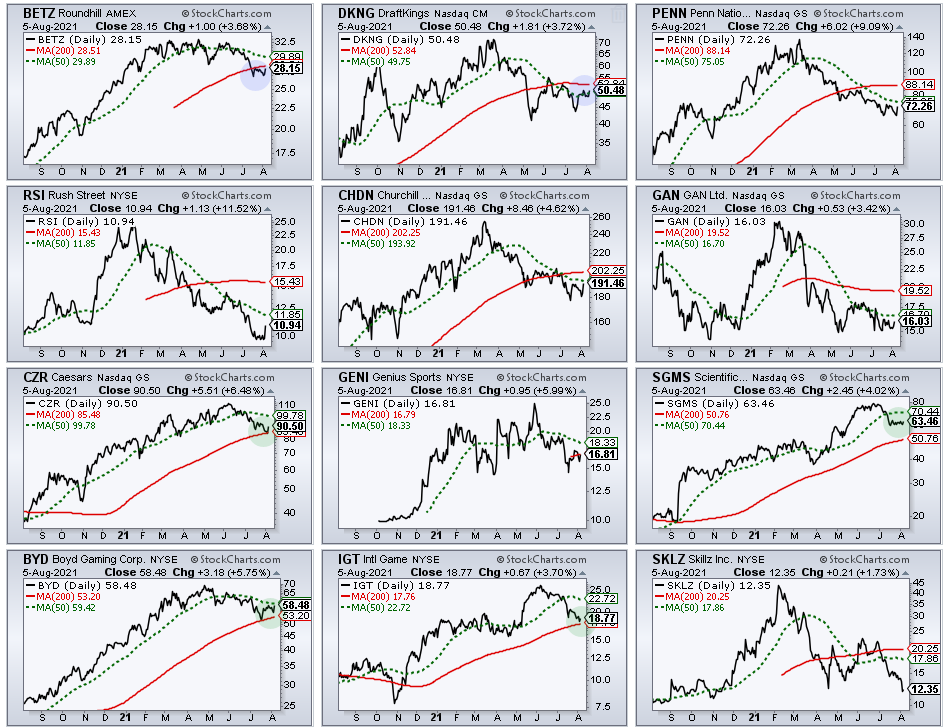 BETZ Surges back to 200-day
The Sports Betting iGaming ETF started trading in June 2020 and is one of the newer ETFs. The broad market consolidated in June 2020 and then took off in July, as did BETZ. The ETF surged over 100% and peaked in the spring of 2021. BETZ then corrected as the market moved away from the high flyers and fell below its 200-day SMA in mid July. A 20% decline from the spring high seems like a lot, but it still pales relative to the prior 100+ percent surge. Even so, StochClose fell below 40 and the long-term trend is technically down. Nevertheless, I keep an eye on BETZ because of two big moves within the last four weeks.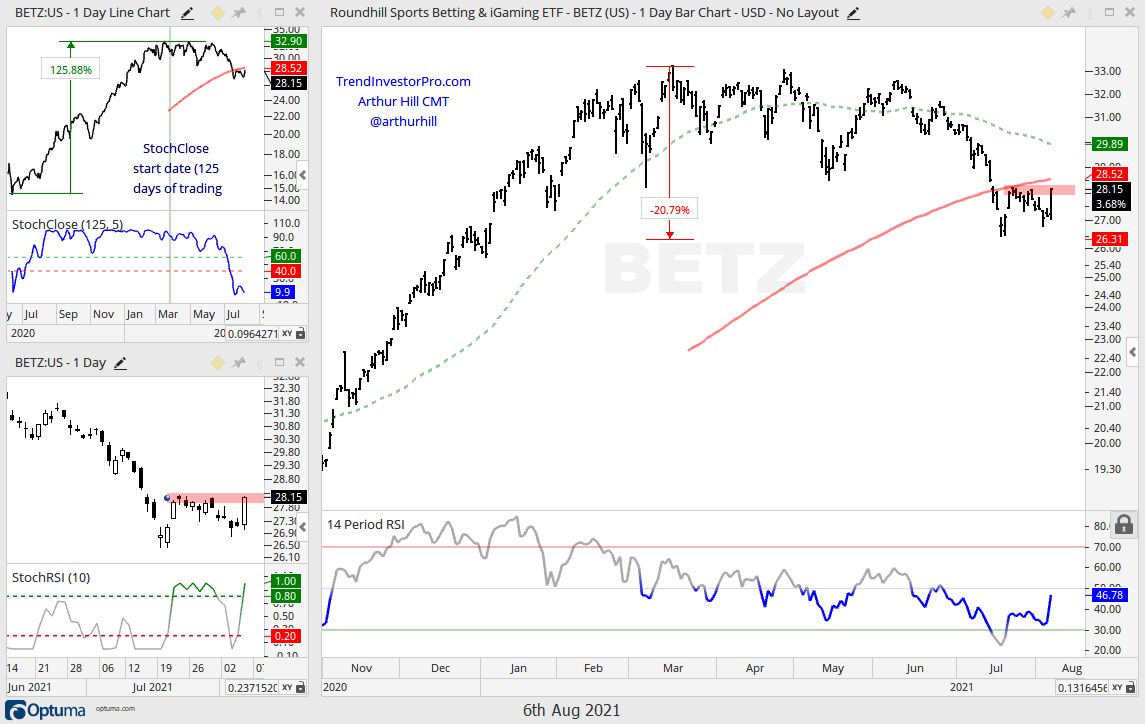 Note that we are seeing rotation in the market today as the 10-yr yield surged and the 20+ Yr Treasury Bond ETF plunged. Money is moving into ETFs related to banks, materials, steel, energy and industrials, and out of ETFs related to tech, biotech, solar, ARK and video gaming.
Penn National and DraftKings
Penn National Gaming (PENN) and DraftKings (DKNG) are perhaps the best known of the online gambling stocks so I will focus on these two charts. DKNG is the stronger of the two.
The first chart shows PENN advancing from single digits in March 2020 to the 136 area by March 2021. This stock is clearly one of the high-flyers and high-beta plays in the market. After a 55% decline into July, the stock suddenly formed a huge bullish engulfing on Thursday (earnings report). This is the second big move in the last four weeks and a breakout would be short-term bullish. Long-term, there is more work to be done.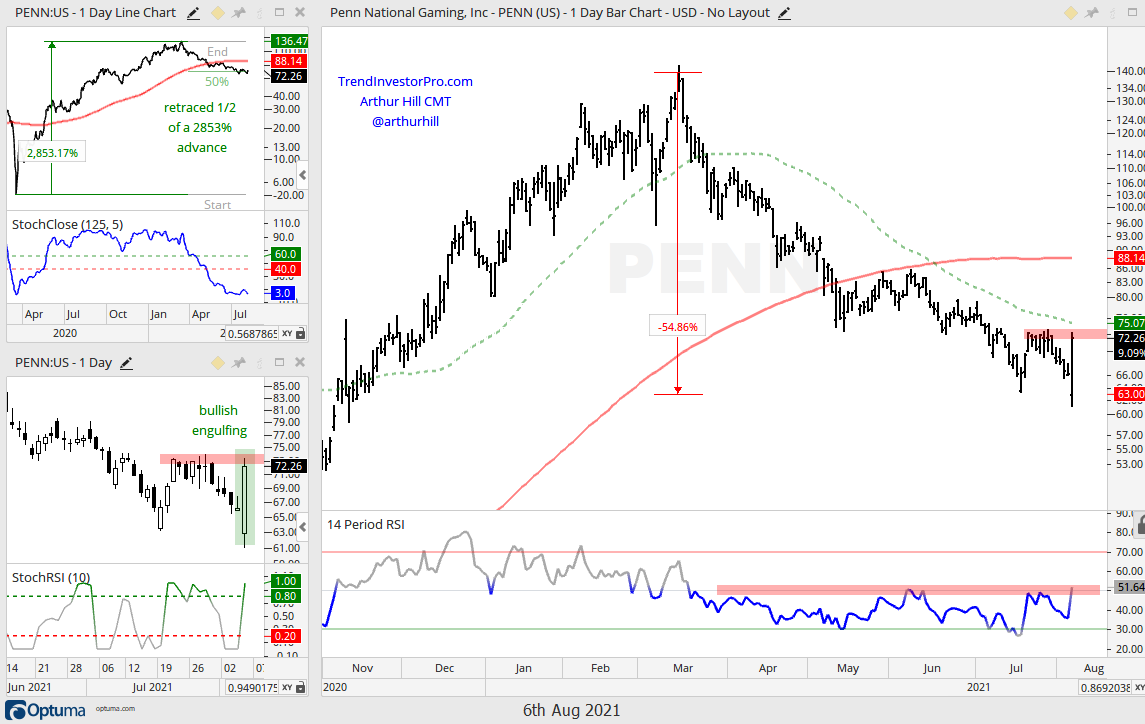 The next chart shows DKNG, which has a stronger chart than PENN. The long-term line chart (top left) shows a rising channel of sorts and the stock bouncing off the lower line. The bar chart shows DKNG holding above its May low in July and breaking out of a falling wedge over the last two weeks. A close below 47 would call for a re-evaluation of the wedge breakout. Note that DKNG reported earnings on Friday and was trading at 51.61 at noon ET.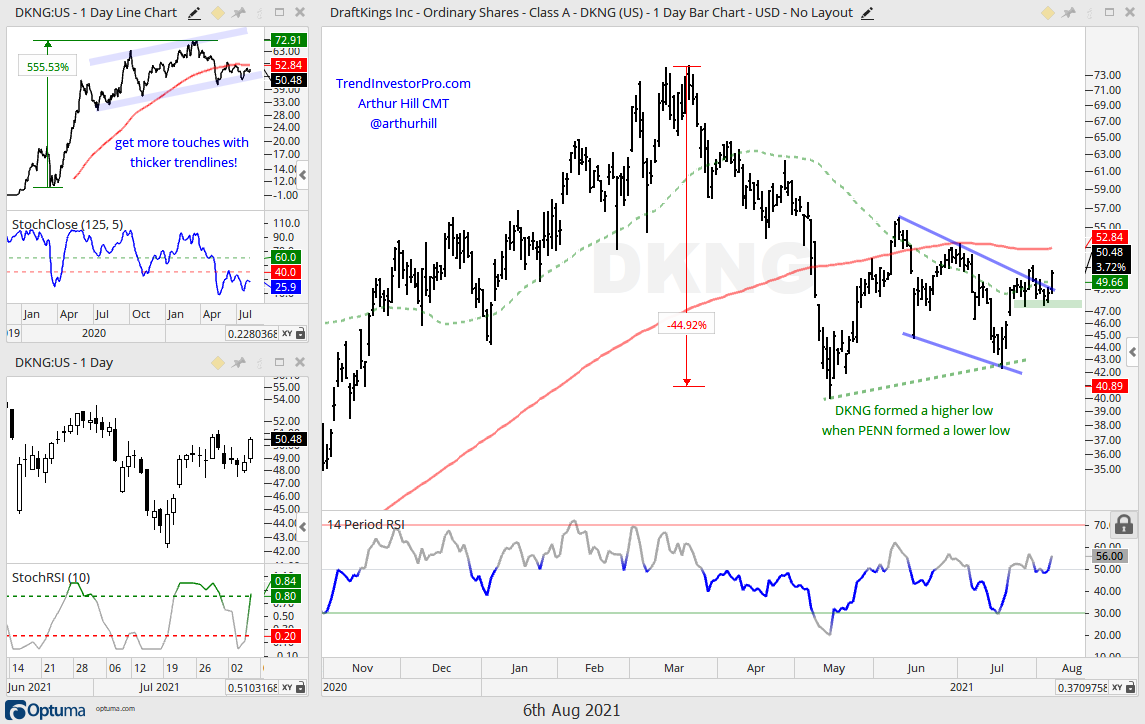 Thanks for tuning in and have a great weekend!