A Subscription to TrendInvestorPro includes Chart Trader and System Trader

Robust Chart Analysis to Help You Make Better Trading Decisions
Arthur uses a top-down approach that starts with broad market conditions and group analysis to identify the leaders. He then employs simple and unique charting techniques to find trades with good risk/reward ratios.
A membership to Chart Trader includes:
Broad market timing using breadth indicators and index analysis
Sector and group analysis to find emerging leaders
Actionable trading setups and ideas for stocks and ETFs
Reports are published on Tuesdays and Thursdays before the open
Each report includes a comprehensive video for further understanding
Scroll further for report and video samples.

Trading and investing involves risk.
Past performance does not guarantee future performance.
Analysis from 19-Sep-2023: SPY and QQQ Tests Breakout Zones
I will start with the charts for SPY and QQQ because these two are at a moment of truth. SPY broke out with a 1.4% surge and long white candlestick on August 29th. This is the active signal right now and it has yet to be proven otherwise. SPY fell back to the breakout zone in the 445 area and bounced with a move back above 450 last week. This bounce did not last long as the ETF fell 1.6% on Friday. This sharp decline pushed SPY back to the breakout zone and a support test is at hand. A close below 442 would break support and argue for a continuation of the August decline. This would target a move to the 405-420 area. Also note that a support break would also usher in a lower high from July to September (red dashed line).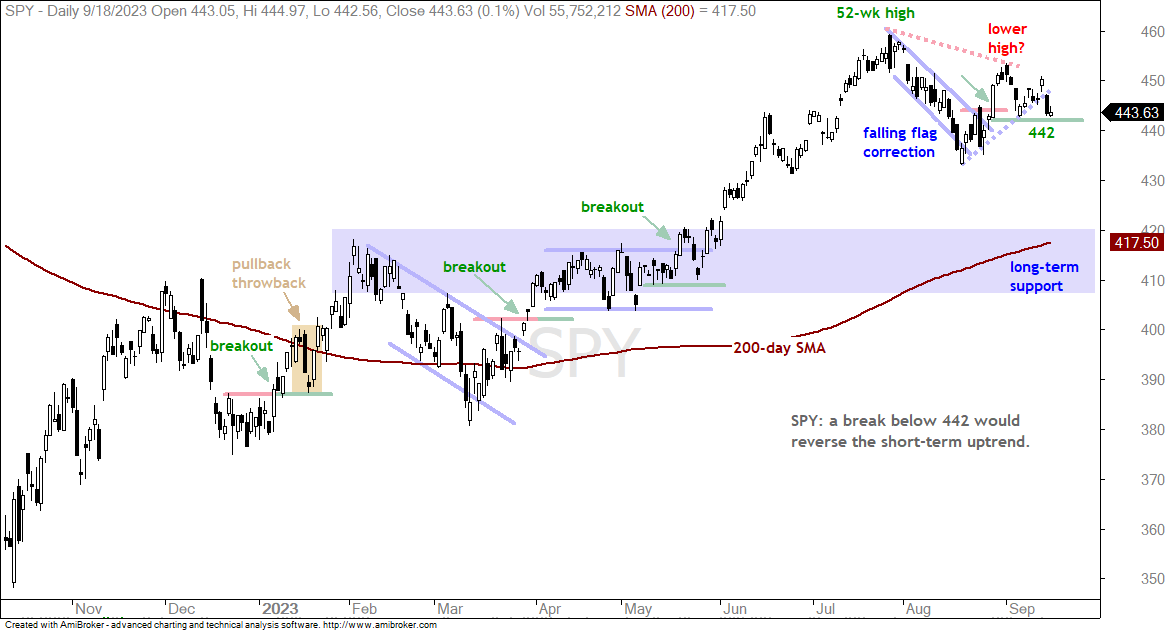 The next chart shows QQQ with a potential rising flag and a break below the flag line last Friday. The ETF managed to firm at 370 on Monday. A support test is at hand and a close below 370 would fully reverse the short-term upswing. A break would signal a continuation of the August decline and target a move to the 320-340 area (blue shading).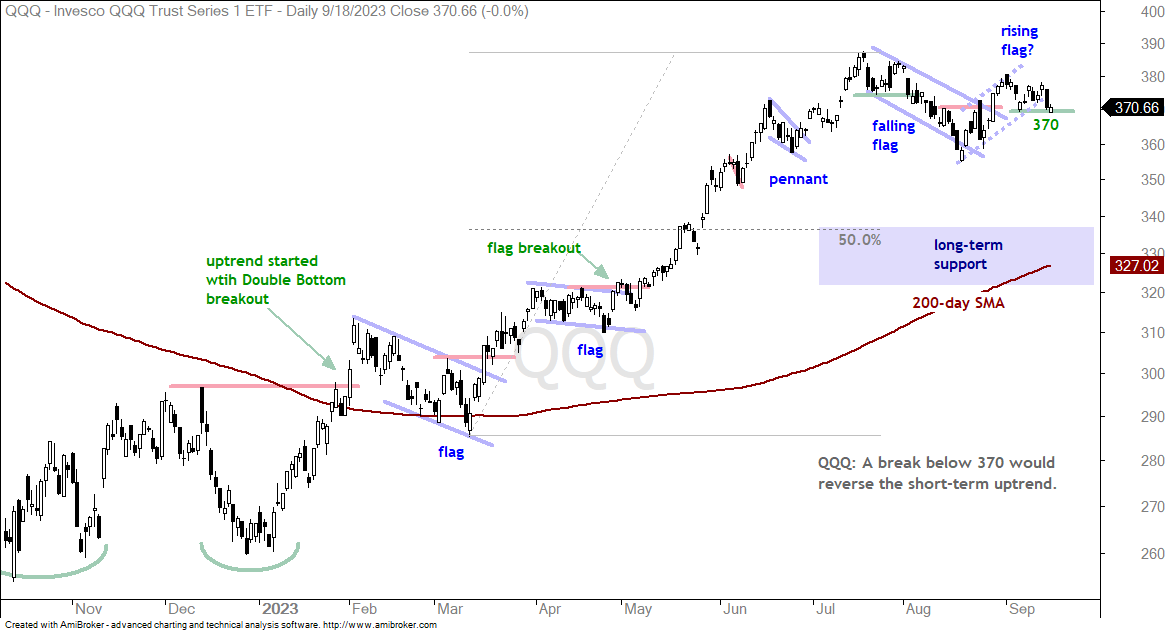 Analysis from 26-Sep-2023: The Leaders Take a Hit
The S&P 500 High Quality ETF (SPHQ) was leading the market with a new high on September 1st, but it too succumbed to selling pressure and broke support. Overall, the pattern looks like a double top with the mid August low marking support. The ETF closed below support on Thursday and Friday, but got an oversold bounce on Monday to close back above. Despite Monday's recovery, I think the pattern remains valid and the downside target is in the 47-48 area. Weakness in "high quality" stocks shows that selling pressure is expanding to the former leaders. This is negative for SPY and the broader market.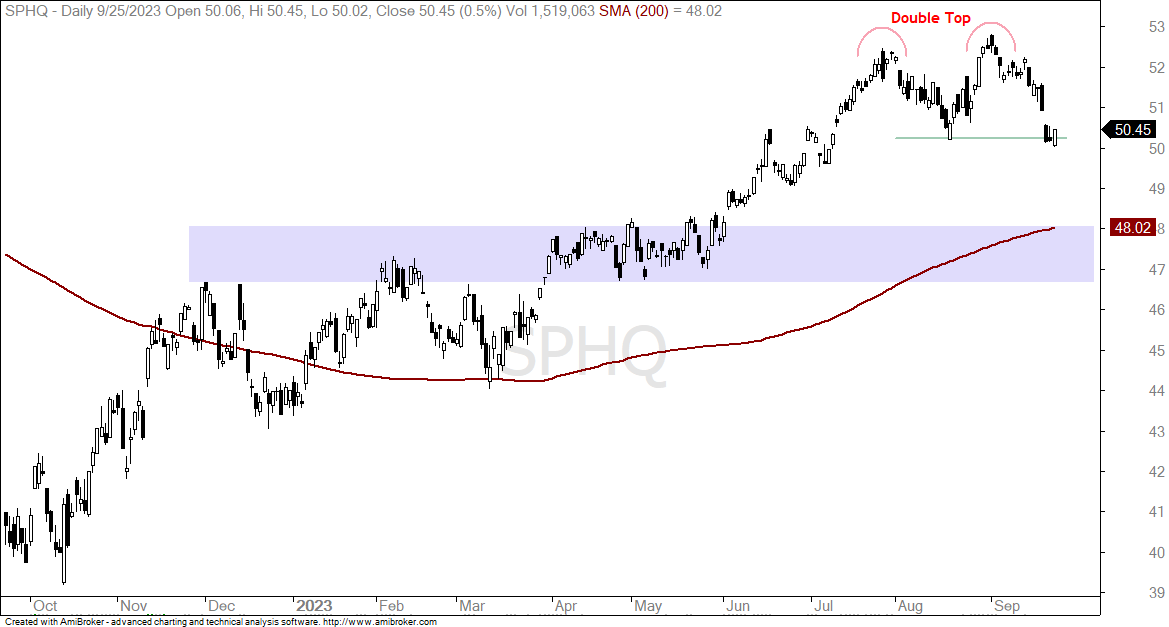 Trading Idea from 26-Sep-2023: Paccar (PCAR)
PCAR is breaking out of a bullish continuation pattern. First, the stock is in an uptrend overall. It hit a 52-week high in July and remains well above the rising 200-day SMA. The stock corrected with a triangle into September and broke out with a move above 86 last week Monday (18-Sept). PCAR fell back after the breakout, but rebounded the last two days and the cup is still half full. I view this as a bullish breakout that signals a continuation of the bigger uptrend. A close below 82 would call for a re-evaluation.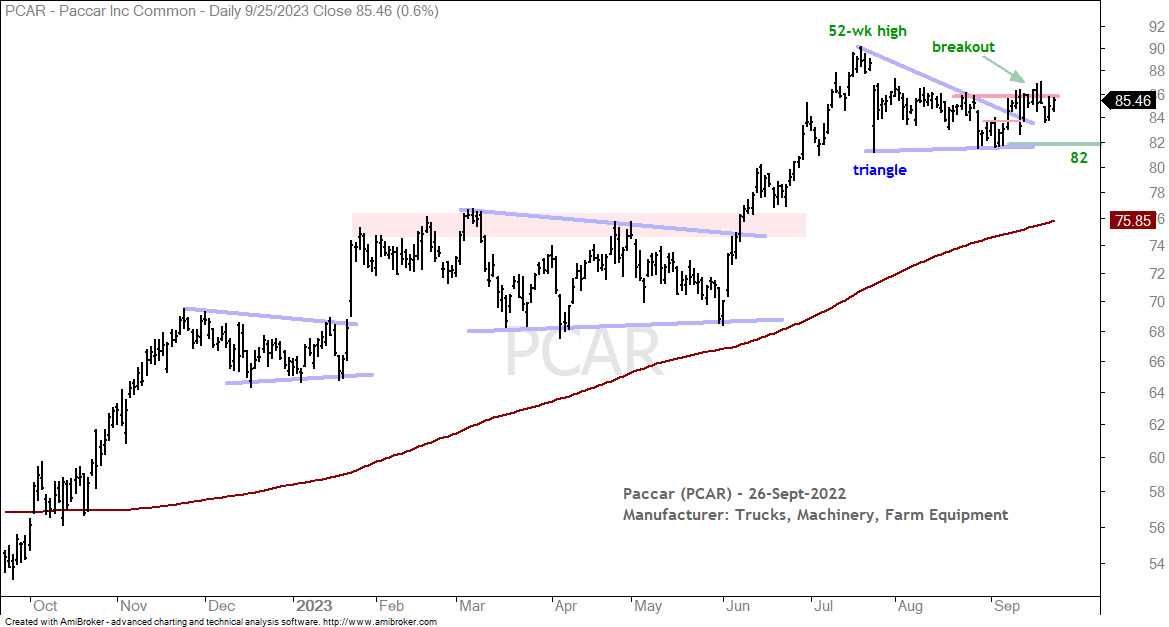 Trading Idea from 26-Sep-2023: Textron (TXT)
Textron led the market this summer with a 28% surge to new highs in early August. The stock was overbought after this surge and digested these gains with a triangle consolidation. A consolidation after a sharp advance is typically a bullish continuation pattern. While the market fell apart last week, TXT gapped above triangle resistance. A breakout is working and this signals a continuation higher. The gap zone (green shading) marks first support. I will set a re-evaluation at 75.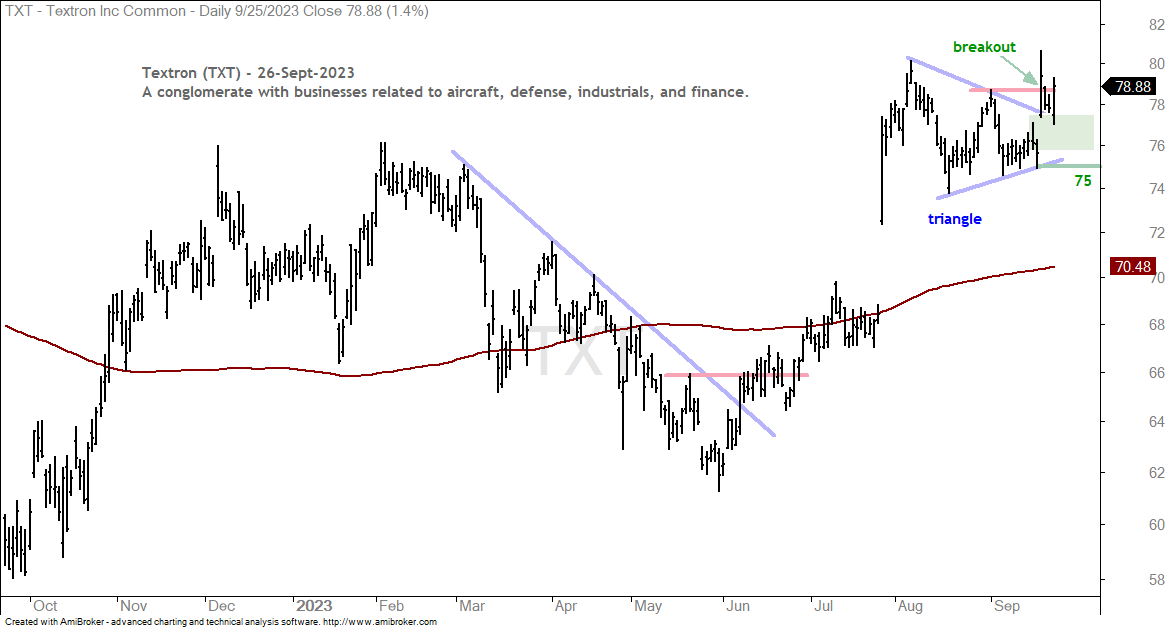 Video from September 19, 2023