The S&P 500 SPDR hit a new high last week, but it was alone at the top because several other major index ETFs did not confirm. In fact, these non-confirmations have been building since March as fewer groups participated. Of note, several tech-related ETFs peaked in mid February, small-caps peaked in mid March, SMH peaked in early April and QQQ peaked in mid April.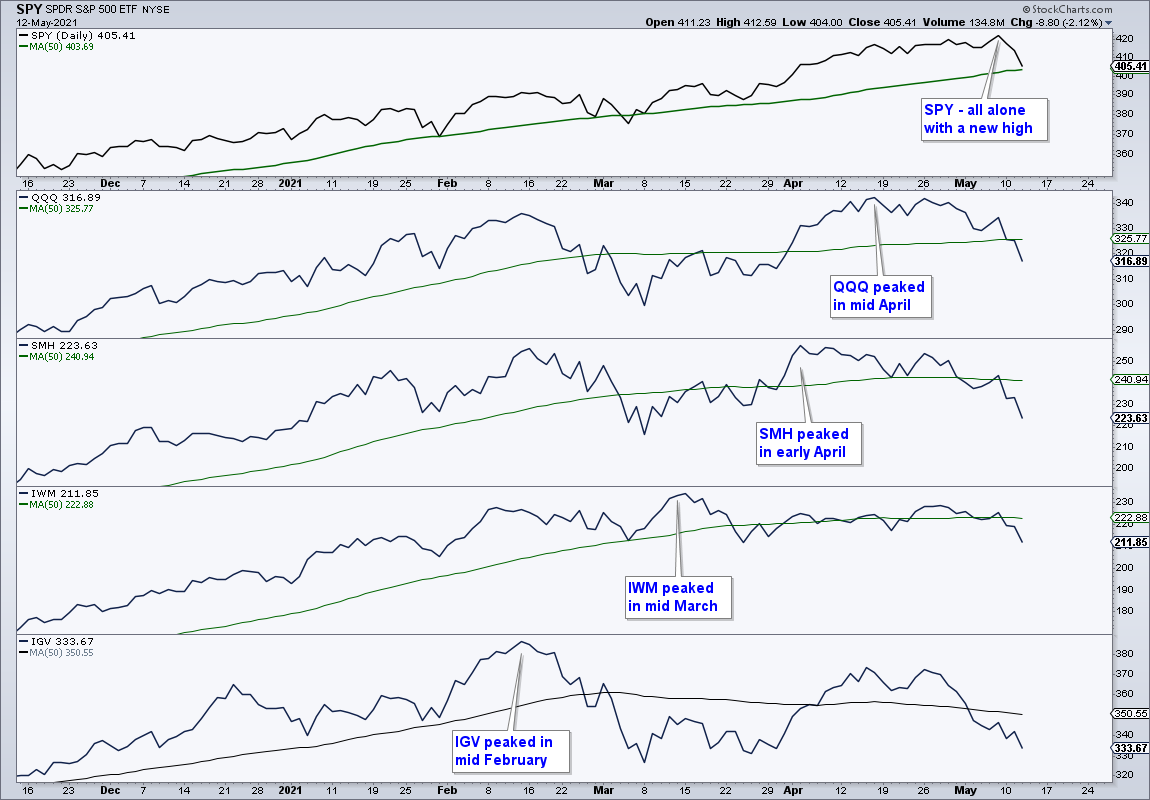 The chart above shows SPY hitting a new high last week and remaining well above its 50-day SMA. QQQ fell the last few weeks and is one penny above its 50-day SMA. The Semiconductor HOLDRS (SMH) fell the last five weeks and is below its 50-day. The Russell 2000 ETF (IWM) has gone nowhere since its March peak and moved below its 50-day. The Software ETF (IGV) formed a lower high from February to April and moved below its 50-day last week.
Small-caps and techs represent the higher risk end of the stock market and money is moving out of these areas. This shows risk-aversion that could foreshadow a broad market correction. Keep in mind that SPY advanced 31% from the late October low to the early May high. Corrections are normal and can lead to the next opportunity.
I put out a note and video today covering correction targets for SPY, seasonal patterns for May-June, lower highs in tech ETFs, the failed breakout in IWM, the breakouts in IJR and KRE, the inability of bonds to bounce and a bearish setup in Bitcoin. Click here to get immediate access and take your analysis to the next level.