This article will explain the methodology behind the ETF Trends, Patterns and Setups report, which is published every Thursday. This comprehensive report groups ETFs according to trend strength, the current pattern at work or the setup in play. ETFs with the steadiest uptrends and recent new highs will be featured near the top. These are followed by ETFs with uptrends and bullish patterns or setups in play. ETFs with trading ranges or sluggish uptrends will feature further down, while ETFs that are seriously lagging and/or in downtrends will bring up the rear. Not only does this report help chartists separate the leaders from the laggards and the uptrends from the downtrends, but it also puts these trends into perspective and groups ETFs with similar characteristics. In short, it shows traders and investors where to focus, and where not to focus.
The listings below provide an example of some groupings from a report. The nine ETFs in the first group are in strong uptrends and recently hit new highs (leading). ETFs in the second group are also strong with new highs and market leading advances since November. ETFs in the third group are not quite as strong, but still bullish because they broke out of bullish patterns in early November. ETFs in the fifth group all broke out and fell back to the breakout zones with falling flags. Each grouping features chart examples and detailed analysis.
New High, Strong and/or Steady Uptrend
SOXX, IPAY, XRT, PBW, TAN, XBI, IHI, PHO, DBB
New High, Market Leading Surge since November
MDY, IJR, IWM, KRE, REMX, DBA
Early November Breakout, Stair-step Higher
SPY, QQQ, XLK, IPAY, HYG
Early Dec Breakout, Flag/Throwback, Breakout
IGV, FDN, SKYY, HACK, FINX
December Consolidation, Breakout, Extension
RSP, XLF, XLV, XLB, IHF, XME
Breakout at Make or Break Level
GLD, SLV, DBP
Downtrend or Trading Range Since August
TLT, AGG, LQD
Downtrend and Near 52-week Low
UUP
New High with Strong and Steady Uptrends
Even though the Clean Energy ETF (PBW) is up way more than the Water Resources ETF (PHO), they are both in the same group because they exhibit steady and stable uptrends. The blue lines define the rate of ascent and the angle for PBW (13.19 degrees) is much steeper than that of PHO (11.62 degrees). In addition, PBW is up 141% in 79 days (late Sept to mid Jan) and PHO is up just 26.7%. Despite the performance differences, both are in steady and strong uptrends, and hence in the same group.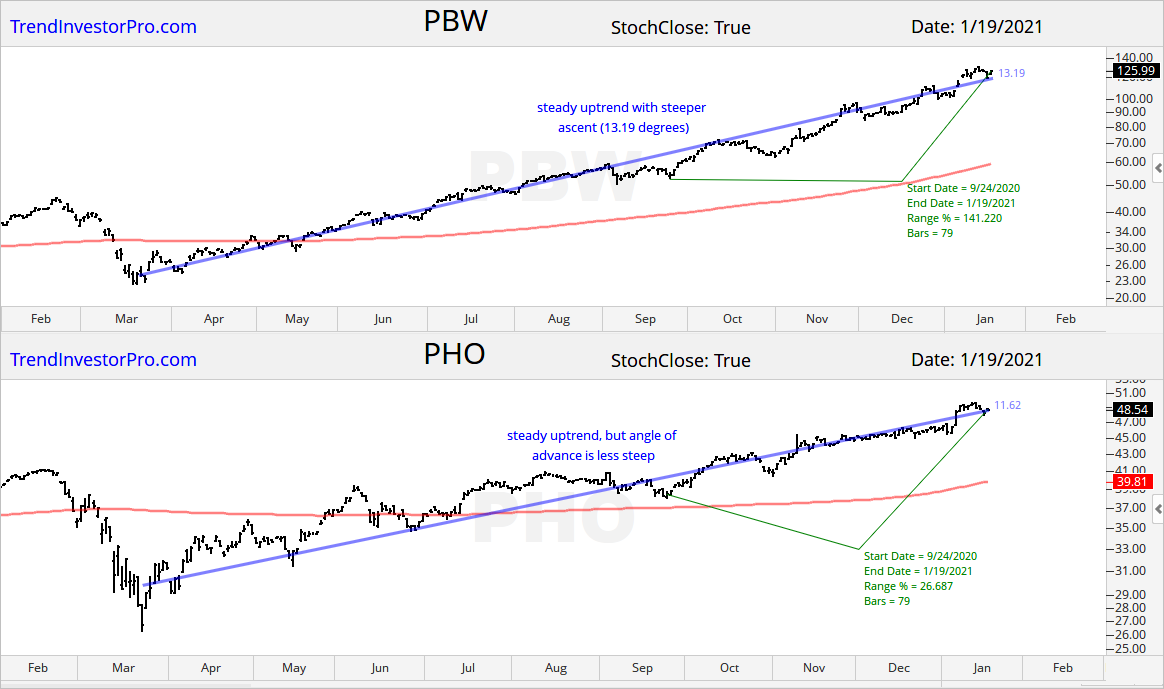 Medium-term Consolidation and Short-term Pullback
The example below shows the Software ETF (IGV) and Internet ETF (FDN) in the same grouping because of similar chart patterns. Both hit new highs in early September and then consolidated into November. ETFs that did not consolidate and instead continued higher would be grouped ahead of ETFs that stalled within their uptrends. Nevertheless, these consolidations were viewed as bullish continuation patterns (rest within bigger uptrend). Both broke out and hit new highs, and then fell back to their breakout zones with falling flags.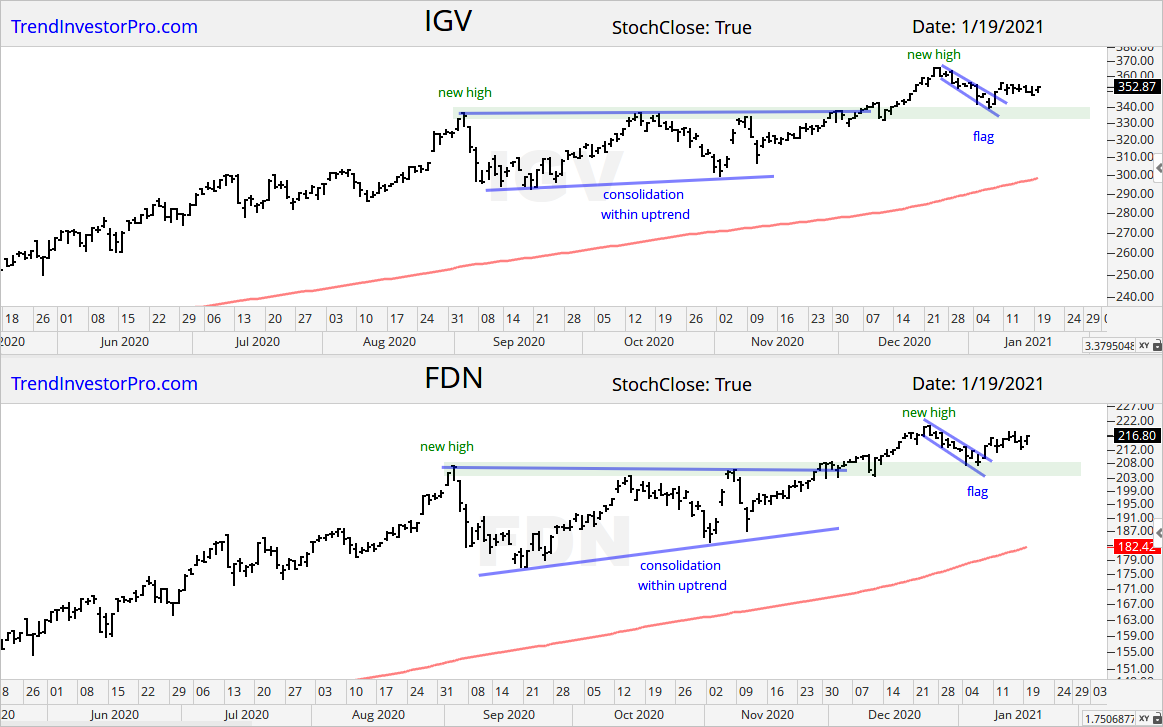 Similar Trend and Positive Correlation
The example below shows the Gold SPDR (GLD) breaking out to a new high in mid April and taking the lead. It was one of the first ETFs to hit a new high and led the market into early August. GLD and the 20+ Yr Treasury Bond ETF (TLT) were in the same group in the fourth quarter of 2020 because both peaked in August and declined over the next few months. With most stock-related ETFs moving higher in the second half of 2020, TLT and GLD were placed in the bottom of the groupings because they were laggards.
Identifying Shifts in Leadership
The next example shows performance nuances between the S&P 500 SPDR (SPY) and Russell 2000 ETF (IWM). SPY led in the first half of the year because it was the first above the 200-day and the ETF consolidated above the 200-day. IWM exceeded its 200-day two weeks later and consolidated below the 200-day. SPY was clearly leading at this stage and would have been placed in a higher group.
The tables turned in the second half as IWM hit a new high in October and held well above its September high on the subsequent pullback. SPY, in contrast, fell short of a new high and tested the September low. SPY was not bearish or in a downtrend, but showed relative chart weakness that would have warranted a lower group. IWM showed relative chart strength ahead of its market leading surge in late 2020.
Bullish Patterns and Setups at Work
This report also highlights tradable patterns and setups at work. The example below shows the Biotech SPDR (XBI) with three bullish continuation patterns. First, notice that all three formed after XBI hit a new high, when XBI was above the 200-day SMA and when the StochClose signal was bullish (uptrend). The falling flag is a bullish continuation pattern that last a few weeks. The falling channel is similar to the flag, but I do not call it a flag when it extends more than four weeks. The third is a pennant.
The middle window shows RSI dipping into the oversold zones during the uptrend (green shading). A move into the 30-50 zone signals an oversold condition of varying degree. 49 is mildly oversold, 40 is average oversold and 31 is considerably oversold. A move into this zone serves as an alert to monitor the chart for a bullish setup or upside catalyst. Note, however, that a move into the 30-50 zone can last a few days or a few weeks. This is why is serves as an alert for further focus.
Sometimes we do not get a clear pattern or setup and have to employ a short-term indicator with more sensitivity to identify a bullish catalyst. For example, an ETF could become oversold and we could use StochRSI(14), the Commodity Channel Index (20) or the Stochastic Oscillator (14,3) to identify an upturn or short-term momentum pop.
My preference is for StochRSI(14), which is the Stochastic Oscillator applied to RSI. StochRSI measures the momentum of momentum, which makes it RSI on steroids. When the bigger trend is up and RSI is in the oversold zone, I look for StochRSI to surge above .80 for a momentum pop. This is a short-term upside catalyst that can signal an end to the pullback.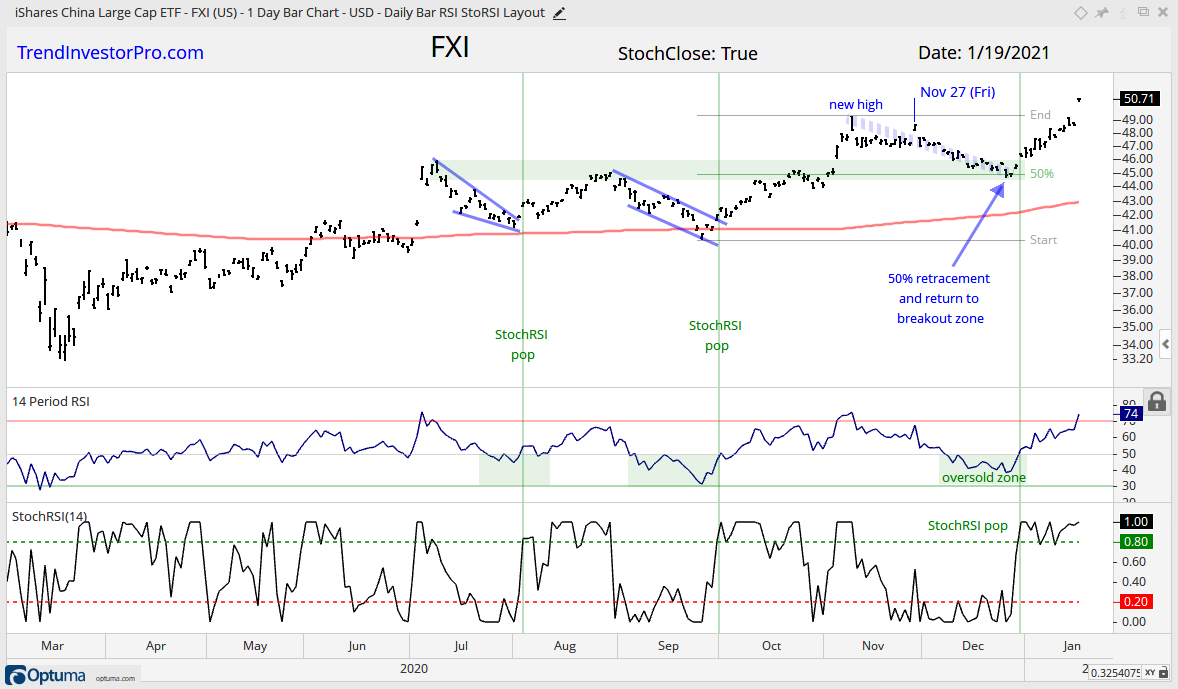 The chart above shows the China Large-Cap ETF (FXI) with three pullbacks since July. The first two formed clear patterns from which to trade, while the third was less clear because of the pop-drop on November 27th. RSI dipped into the oversold zone each time and StochRSI popped above .80 to signal an end to the pullback (green vertical lines).
ATR Trailing Stop Example
And finally, the ATR Trailing Stop is sometimes featured. Note that Profit Targets were covered in part five of the StochClose strategy series. The next chart shows an example of trading the breakout within the bigger pattern and the ATR Trailing Stop at work. First, RSI became oversold in September and there was a short-term breakout in late September. This did not work out because XLK hit the ATR Trailing Stop in late October.
Medium-term, a triangle consolidation took place from early September to late November. This is the bigger bullish continuation pattern and there are shorter swings within the pattern. Notice how XLK surged off the September low in early November to trigger a short-term breakout within the pattern. This offered an early bird chance to partake in the bigger uptrend. Chartist could then apply the ATR Trailing Stop to define/control risk. This stop is 2 ATR(22) values below the highest close since the breakout. As such, it will rise as long as prices rise. The stop will trigger when prices fall.
You can learn more about ATR Trailing Stops in this post,
which includes a video and charting option for everyone.
The ETF Trends, Patterns and Setups report is designed to keep traders and investors focused on ETFs that are in uptrends and leading. Focusing on uptrends, bullish patterns and oversold setups will improve our odds of success over the long run. Keep in mind that stock-related ETFs account for the bulk of the core ETF list. While it is sometimes possible to make money on the short side, the long side of the market is where we make the real money.
Note that I do not provide specific entry and exit advice. This is because everyone's approach and situation are different (portfolio size, strategy, goals, current positions, time frame, risk appetite, position size etc…). These comprehensive reports include the setups that I find interesting and timely. Study the charts, digest the analysis and find the setups that suit you.
Thanks for tuning in and have a great day!