The market as a whole is not firing on all cylinders, but clearly more bullish cylinders are firing than bearish cylinders. The S&P 500 SPDR is inches from a new high and the Nasdaq 100 ETF hit a new high on Friday. This is bullish, pure and simple.
The Russell 2000 ETF is still trending lower and lagging, while the S&P MidCap 400 SPDR is stuck in a six month trading range. Hence, the mixed nature of the broader market. Mixed performance in the broad market is also affecting ETFs because individual stock performance is often mixed within sectors and industry groups.
Today I will highlight some developments in the ETF universe and then turn to some individual stock setups. Note that I updated the charts in the ETF ChartBook with fresh annotations. The rankings and groupings remain the same as on Thursday.
ETF Highlights and Updates
SPY is within 1% of a new high and a breakout from the Ascending Triangle featured on Thursday and Friday. QQQ and XLK are leading with triangle breakouts this week and new all time highs on Friday. 
Momentum Leads Minimum Vol for a Week
The S&P 500 Momentum ETF (MTUM) rose .64% this week and the S&P 500 Minimum Volatility ETF (USMV) fell .89% as money moved into the momentum end of the market. I am watching MTUM for a breakout at 120 to signal further strength in the riskier end of the stock market. Note that such a shift would be bullish for stocks in general. It could also signal a shift from Utilities, REITs and Staples to some of the more offensive names (IGV, IPAY, XRT). USMV broke out of a falling flag, but got cold feet as it fell back this week. Ditto for XLP, XLU and XLRE.
Finance Sector Hits New High
The Consumer Discretionary SPDR (XLY) remains short of a triangle breakout, but this is still a bullish continuation pattern and Amazon, its biggest component, is trading in a big support zone. More on AMZN later. The Finance SPDR (XLF) hit a new high and is also in the leadership group.
Semiconductor Equipment Stocks Lead SOXX
The Semiconductor ETF (SOXX) hit a new high and continues to lead. Intel led the way with an 8% gain on Friday, but semiconductor equipment stocks are the real leaders within this group. AMAT, AMSL, KLAC, LRCX and TSM are up between 20 and 37 percent over the last six months, while Intel is still below its April high and down a fraction over the last six months. Also note that three of the top ten stocks are down over the last three months. Hence, the mixed nature of the broader market can be seen within the SOXX.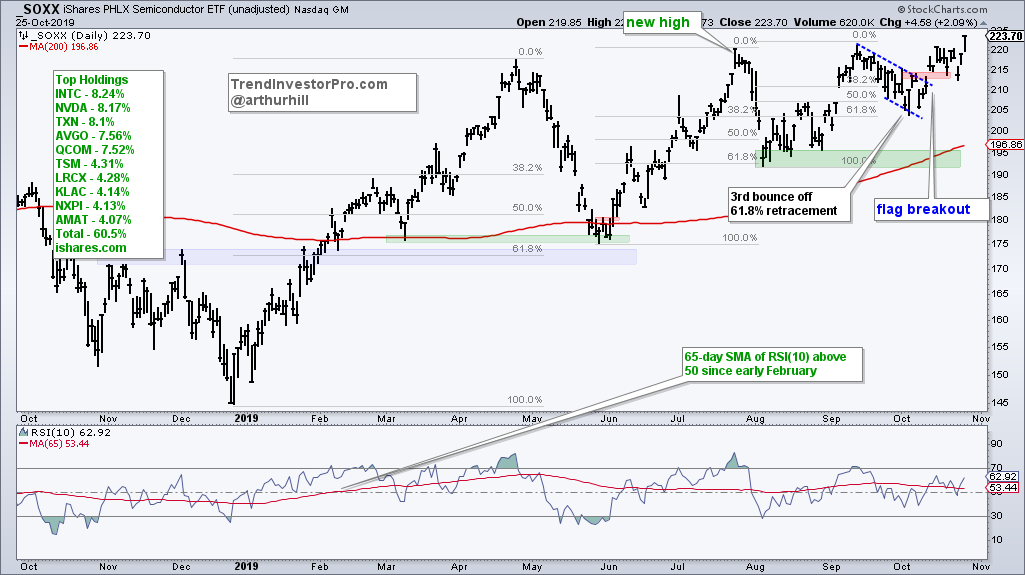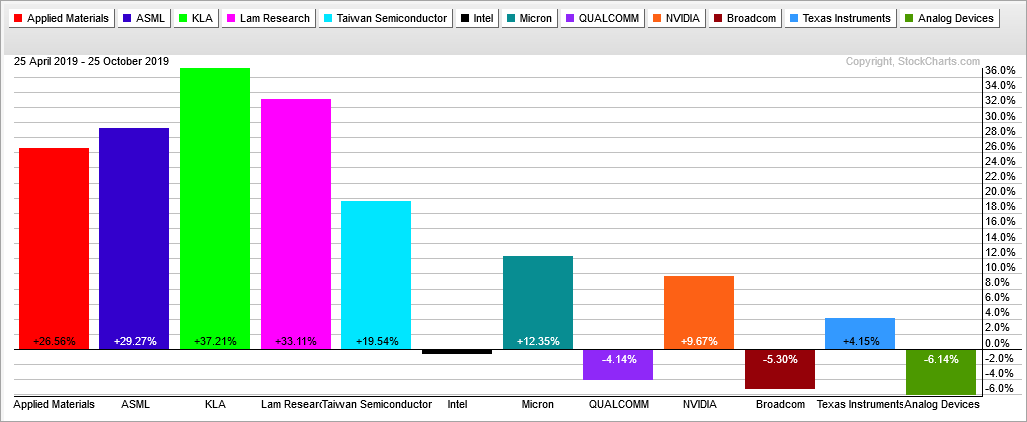 Software ETF is a Mixed Bag
Even though some ETFs seem like a collection of homogenous stocks, the reality is often different. Take the Software ETF (IGV) for instance. All these stocks have something to do with software, but their businesses are often very different. Oracle and SalesForce have comparable businesses, but their profiles are completely different than Activision and Electronic Arts. The first two are the big CRM and business application giants, while the latter two are focused on gaming. Despite HUGE differences, these four are lumped in one group. C'est la vie.
On the price chart, IGV is one of these names that was leading in July and is lagging the last three months. The tech-related ETFs bounced over the last three days and IGV is back above its 200-day. Overall, the decline formed a falling wedge and the ETF held above the early June low. It is still in a 3-month downtrend and a break above the October high is needed for a reversal.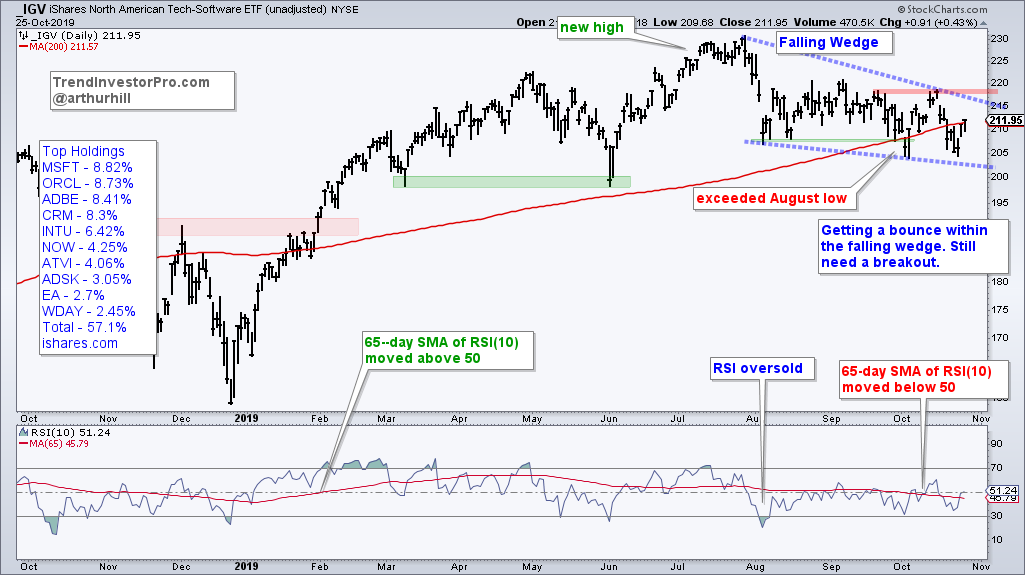 The next chart shows six-month performance for the top ten stocks in IGV. Three are up and seven are down. Mr Softy (MSFT) sports the most consistent uptrend within the group and is highlighted later.
Now let's look at some stocks setting up…
Amazon Could be Near Inflection Point
Amazon is one of the poster children for the shift we saw in the stock market from July to October, give or take a couple weeks. AMZN, the tech-related ETFs and many of the momentum names were leading the market in July with new highs and strong uptrends. These names then fell and lagged the market the next three months, while the defensive names outperformed (Utes, REITs, Staples).
AMZN and most of these names are still in downtrends the last three months, but many are near support and we could see inflection points in the coming days and weeks. In simplified mathematical terms, an inflection point is the point on a curve where the curve changes from concave down to concave up, or vice versa. AMZN is still pointing down, or concave down, but it is in a potential reversal zone and we should watch for a breakout.
Amazon is trading in a potential reversal zone for three reasons. First, the stock is trading in a support zone marked by broken resistance and the June low. Second, the decline to the 1700 area retraced around 50% of the prior advance (late December to late July). A 50% decline after an advance represents two steps forward and one step backward.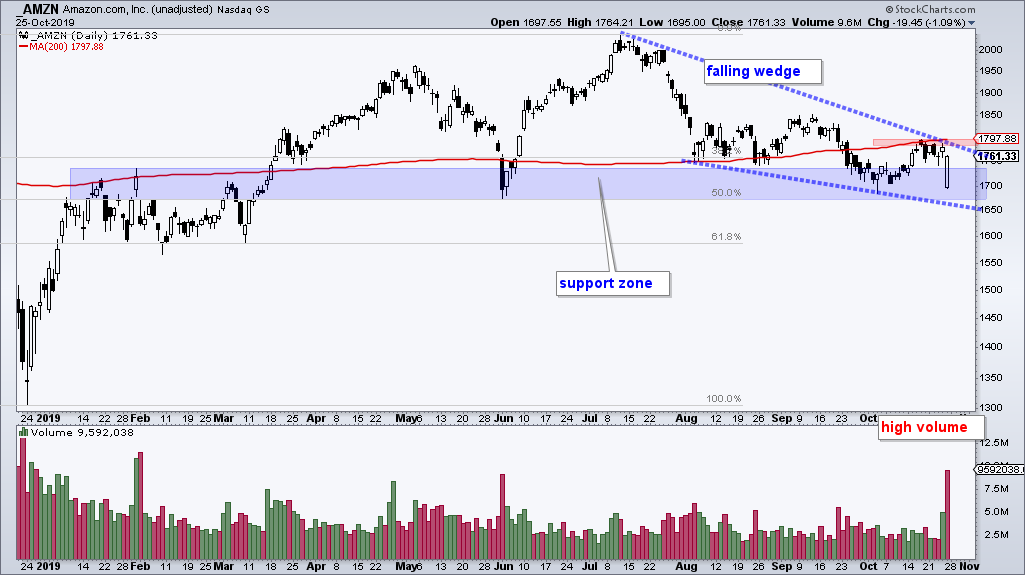 Third, volume was extremely high on Friday. I don't use volume very often, but could not help notice that volume was the highest since February and well above average. Even though AMZN closed down on the day, the open was near the low of the day and the stock closed on the high. This looks like a big accumulation day and I would also suggest that big volume days can precede inflection points.
A close above 1800 would trigger a breakout and reverse the three month slide. Such a move would exceed the wedge line, the mid October high and the 200-day SMA. This would be bullish and I would re-evaluate on a close below 1690.
Microsoft Consoliates near Highs
Microsoft sports a strong uptrend and a bullish Ascending Triangle.
A Classic Correction for Adobe
The next chart shows Adobe with a long falling wedge that retraced 50-61.8% of the prior advance and returned to the support zone. A breakout near 280 would reverse this decline and put the bigger uptrend back in play.
Even though the Cyber Security ETF (HACK) chart is a bit of a mess, one cyber-security name came across my radar this weekend though. The next chart shows Palo Alto Networks (PANW) with characteristics of an emerging leader. The stock held well above the August low and showed relative strength in October. It then moved above the September high with a strong advance last week. Overall, we can see a large falling wedge and a reverse near broken resistance and the 61.8% retracement.
A Classic Correction for Abbott
The next chart shows Abbott Labs (ABT) with characteristics similar to the Adobe chart above. You know the drill: new high, falling wedge/channel correction, firming near support and a key retracement). Watch for a breakout near 84.
Thermo Fisher Gets a Gap-Breakout
Thermo Fisher (TMO) sprang to life this week with a gap and triangle breakout. The big trend is up and this breakout signals a continuation higher.
Visa (V) is part of the mobile payments space and the second biggest holding in the Mobile Payments ETF (IPAY). The stock held up well in early October and did not break the August low. Overall, Visa has simply been consolidating since July and this is a consolidation within an uptrend. V gapped up on Thursday and is on the verge of breaking short-term resistance.
A Huge Consolidation for Broadcom
And finally, we have a stock from the semiconductor group, Broadcom (AVGO). I would characterize this stock as an "emerging leader". The stock hit a new high in April and then formed a triangle over the last six months. This makes it a BIG bullish continuation pattern. AVGO is an emerging leader because it held just above its August low in October and broke short-term resistance two weeks ago. Watch for follow through and re-evaluate on close below 270.
Thanks for subscribing and tuning in!

Have a great weekend!